Greece meets Faira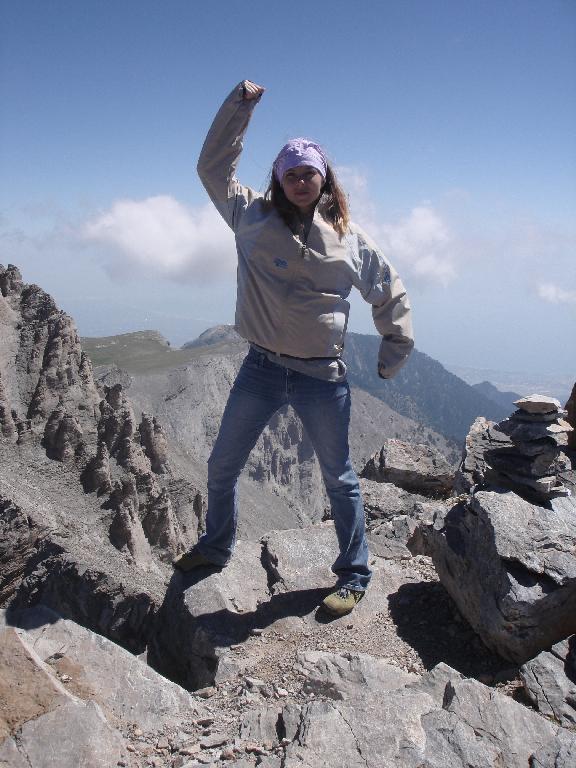 ---
Delphi.
Ya sas, matera que patera!
I'm writing to you now from an internet cafe in modern-day downtown
Delphi. The downtown area used to be a few miles in another direction
but then archeologists found the anceint city buried under it, so they
moved the entire town to whre I'm sitting now! That is dedication!
We haven't consulted the oracle because we've only gotten here a few
hours ago.. I'm not really sure what we are doing tomorrow morning,
though. This morning we went to the ancient site of the Olympics in
Olympia where we spent the night last night. The site is mostly in
ruins, but it was incredible. The site is many many buildings, all
related to the ancient games somehow--guestrooms, sport arenas,
athletic preparation rooms--and temples to Zeus and his father, the sun
God Cronos. Some people from our class even sprinted on the running
track in the blazing heat where the very first Olympic champions
trained and won. It was quite an experience!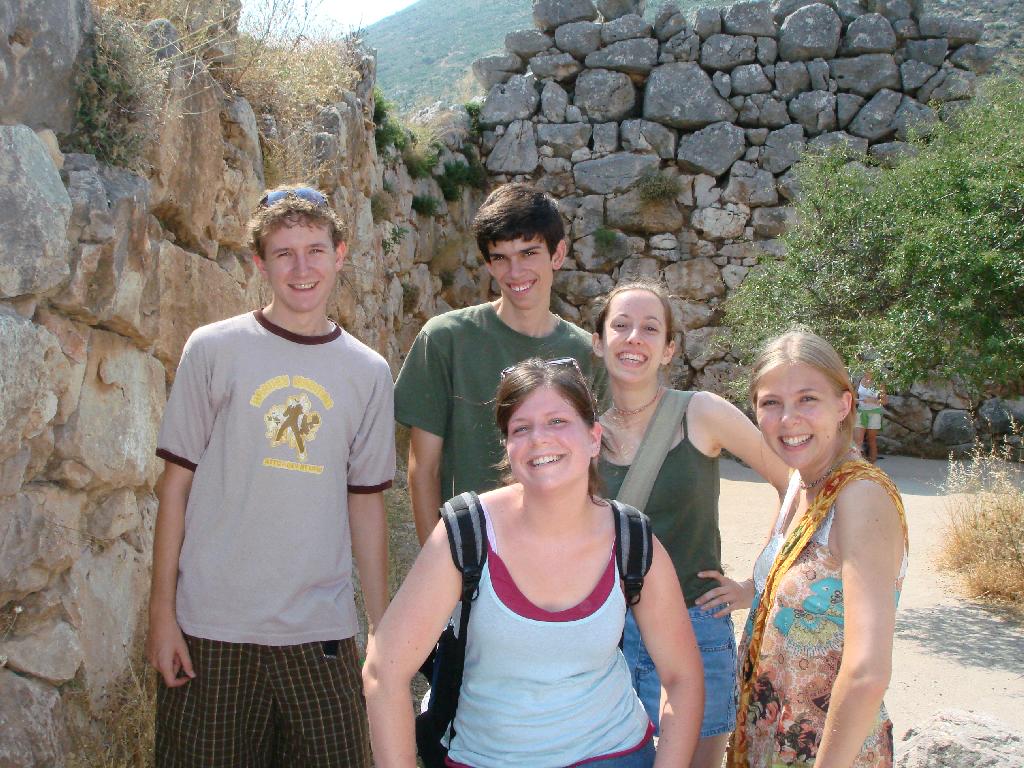 Speaking of blazing heat, I got my fill of it yeaterday, which is one
of the main reasons I wouldn't have even though about racing today
under the sun; we visited the Palace in Nafplion yesterday afternoon.
On the way there Viau gave the busses an announcement that although the
original plan was to visit the castle on the mountain the temperature
was already 100 degrees farenheit and still rising, so they were making
the trip optional. If people felt healthy - and most importantly
hydrated - enough, they could choose to visit the palace and walk down
the 1,000 stairs to the city, but if not people were urged to stay at
the bottom and go shopping in modern-day Nafplion (which is highly
recommended by Jeremy's girlfriend). I chose the palace, even though
the rest of my entourage chose the shade and ice-cream of tourist shops.


The bus drove us to the top of the mountain and let us out and we were
let loose. This palace was built from 1400-1700, so its one of teh
more modern sites we'll visit this trip, but its also the most intact
because of that. Walls, tunnels, floors, doorways, etc were all still
very much intact. We were allowed to clamber around this ruin from as
long as we wanted to, so I spent quite some time crawling up steirs and
down walls and through a tunnel and standing on very steep precipices
(don't worry, I'm still alive) and I took some AMAZING pictures. I
finally got pretty tired though, and realized that I was the last
student still on top with one professor, so we decided to head down.

It took us 25 MINUTES to walk to the bottom of those 1,000 ancient
stairs. It was insanely hot and there was almost no shade the whole
way down. My legs were shaking after only 1/2 of the trek, but we
finally made it and my face was the color of a tomato. I drank 1.5
liters of water and doused my face and hair in the sink before heading
toward the bus. Needless to say when we got to the hotel that night I
passed out VERY quickly (with a pillow on my head to shut out the
sounds of the drunken imbeciles in the hall).


It was an AWESOME day. I can't wait to get home and show you all the
pictures I've been taking, especially from that trip... but really I
don't think I could take any pictures that TRULY depict the majesty of
that place, standing on top of a hill impossible to reach looking out
over the seas to the mountains on the other side... its amazing.


There are so many other places to write about, but I just don't have
enough time and it seems impossible to get to computeres. Hopefully it
will become easier as we get closer to our final destination. I tried
to call you yesterday afternoon, I believe, but you were out. From
here until Thessaloniki we'll be in one hotel a night, and by "night" I
mean we arrive in time for LATE dinner (usually ending around 10:30),
sleep, and check out by 8:30am the following morning.


I'll contact you again as soon as possible... maybe even when we get
back to the hotel if I'm awake enough. If I don't though, don't
worry.. I've made plenty of friends who wont let anything happen to me!
:)
I love you VERY MUCH and hope your having 1/5 as much fun as me in
Macon!
Love,
-faira