Brown's Mount Association
At The Macon Overlook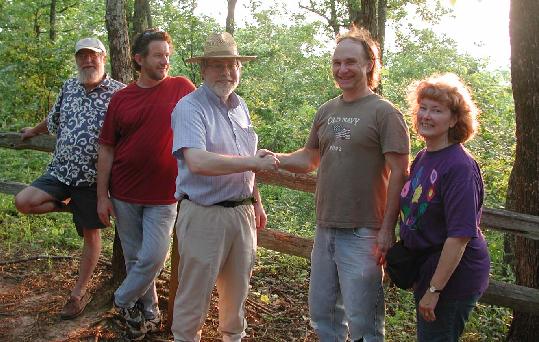 Brown's Mount Association's outgoing president, Lindsay Holliday congratulates John Wilson and other new board members. Pictured are [L-R] Dee Hansford , Mick Allen, Holliday, Wilson, Betty Rose, all standing at the Macon Overlook atop Brown's Mount after elections on May 23rd. Other directors not pictured are Brian Adams and Ron Richards. [click here for bigger image]
February 27th 1990 - Even the longest journey begins with but one, first step...
Doug and "Joe Brown" aka Myrtle Simmons
from the Macon Telegraph - 11-15?-1989
---
State agency buys Brown's Mount property from museum
By James Palmer - The Macon Telegraph - March 30, 2000
The Trust for Public Land announced Wednesday the Georgia Department of Natural Resources has purchased 165 acres of Brown's Mount from the Museum of Arts & Sciences.
The trust facilitated the purchase. Norma Casal Buckley, a project manager for the trust, said the deal was closed March 17.
Brown's Mount will be used as an educational center as part of the Bond Swamp National Wildlife Refuge. The DNR will lease Brown's Mount to the U.S. Fish and Wildlife Service, and the museum has agreed to conduct environmental education programs on the mount. All proceeds of the sale have been committed by the museum toward enhancing its programming.
Museum director Michael Brothers said the land was bought for more than $300,000. He said it is the culmination of more than a year and a half of negotiations.
"It's not a new development, but it has taken awhile to iron out the specifics," Brothers said. "It became a pretty complicated thing."
He said it's a great opportunity for the museum because it capitalizes on its strengths.
"The state takes over administration of the site, and we're going to be able to do more environmental education," Brothers said.
Bond Swamp National Wildlife Refuge was opened for public fishing March 15. Foot trails should be available to the public by mid-October. The refuge covers about 6,500 acres on the eastern banks of the Ocmulgee River and is just east of downtown Macon. The Nature Conservancy acquired Bond Swamp in the early 1980s. The Trust for Public Land has negotiated acquisitions of more than 1,700 acres on the west bank of the river in connection with the Ocmulgee Heritage Greenway initiative.
"Bond Swamp we're thinking about as the conservancy area of the greenway. It's a place people can go and learn about all of the resources there," Buckley said. "Brown's Mount is the perfect place to have a trail-head. You can see all of Bond Swamp from the top and then you can turn around and see the skyline of Macon. It's a fantastic place."
Brown's Mount, which is about 500 feet high and is located off Ocmulgee East Boulevard, is one of the highest points near Macon. It was a favorite picnic spot for Macon residents in the 1800s and was once the home to Harry Stillwell Edwards, noted local poet who died in 1938. About 10 years ago a group organized and began efforts to buy the land because it was being considered for development. The museum purchased the land in 1993.
"Hopefully, this is the final step that will protect it forever," said Buckley.
By James Palmer - The Macon Telegraph - March 30, 2000

http://www.macon.com/mld/macon/living/14772300.htm
Posted on Sun, Jun. 11, 2006 Page 1F with color pics

Brown's Mount offers nature's wonder, spectacular views
By Rodney Manley
TELEGRAPH STAFF WRITER

As breathtaking as the view may be from atop Brown's Mount, its beauty is perhaps best beheld while trekking the seven miles of trails that climb 500 feet above sea level.

For it's on those paths that the limestone-capped mount hints at its rich past. Fossil deposits in the cliffs and rocks remind hikers that this was prehistoric shoreline. A wave of raised earth runs near the western slope, the remnant of wall dating back hundreds, possibly thousands, of years.

The mount is home to varied populations of plants and animals, including endangered species. Once threatened by development, Brown's Mount, a former farm, writer's retreat and Indian settlement, has been an education center since its purchase in the early 1990s by the Museum of Arts and Sciences.

The museum sold the property to the state in 2000 but continues to conduct programs there.

It offers day and night hikes up the mount on the third Saturday of each month. The hike next Saturday might be the last chance to see Brown's Mount for a while.

The museum normally halts the hikes in July and August because of the summer heat, and just when the hikes will resume is unclear.

The U.S. Fish and Wildlife Service, which manages the nearby 6,500-acre Bond Swamp refuge, is on the verge of signing a deal to take over management of Brown's Mount from the state.

The museum has no agreement with the federal agency, but Fish and Wildlife officials say their deal with the state should mean even more public access.

"We'll be looking at different types of opportunities to open this up to the public," said deputy refuge manager Carolyn Johnson, who led a team up the mount last week for a public use review.

The Brown's Mount property, which now is gated, might be opened all the time for hiking, hunting, bird-watching, wildlife photography, field trips and other uses. There are no plans to staff the site, she said.

At the base of Brown's Mount, where the hike begins, young longleaf pines - which once dominated the south Georgia countryside - struggle to gain a foothold. Several have lost their crowns, which does not bode well for their survival.

The path steepens and a small cliff jutting from the hillside comes into view, giving hikers their first look at the layers of limestone and clay that form the mount.

"It's sort of like a birthday cake," said Andrew Blascovich, the guide on many of the museum hikes.

The Georgia lobed spleenwort, a small, rare endangered fern, sprouts from cracks in the limestone boulders along the mount's eastern slope. The rise finally reaches a plateau where Indians once dwelled and where Myrtle Simmons, thousands of years after the first settler, farmed while her husband was away working for the railroad.

Here, an overlook offers a gaze across the Ocmulgee River and over the city of Macon.

The hikers head off, and a deer leaps off the old farm road and into the cover of trees. On another day, one might encounter rabbits, turkey, beaver, even a black bear or bald eagle.

"Almost every animal you think of in Georgia comes to Brown's Mount," said Blascovich. "It's a safe haven from the swamp when it floods."

Nearby, the hikers find the site where poet and novelist Harry Stillwell Edwards sought solitude for his writing. A chimney of limestone rock is all that remains of the cabin where he penned his collection of poems "On the Mount." Closer inspection reveals a sand dollar in one chimney rock.

The cabin was burned down accidentally by Boy Scouts in the 1960s, Blascovich said.

"They had a jamboree, and the jamboree got a little out of hand."

Archeological studies have uncovered two American Indian houses, an earth lodge and small mound similar to those at the Ocmulgee National Monument. Naturalist William Bartram made note of the mound during his travels through the state in the 1770s.

The settlement was probably surrounded by a wall of 3 feet of stone stacked on a raised dirt base. The wall probably kept livestock in while helping keep intruders out, Blascovich said.

"Ocmulgee was the center city, and this was one of the suburbs," he said.

The trail along the southern slope of the mount hugs a sharp, 20-foot cliff overlooking a field of boulders. A short distance away, on refuge property, another cliff offers a grand look across Bond Swamp. A "bowl" is carved into the large, flat rock, where ancient residents sat and ground corn while taking in the view.

IF YOU GO

What: Day and night hikes up Brown's Mount

When: 10 a.m. and 8 p.m., Saturday, June 17

For more information: Call the Museum of Arts and Science at 477-3232 for details and directions.
To contact Rodney Manley, call 744-4623 or e-mail rmanley@macontel.com

---
page maintained by - Lindsay Holliday