Friends of Ocmulgee Old Fields
Alert - Action is Needed !!!
Alert - Immediate, Continuous Action is needed to counter efforts to Extend
The Friends of Ocmulgee Old Fields is a group of neighbors, volunteers and community activitists who are working to support and promote Ocmulgee National Monument, one of America's crown jewels attracting more than 120,000 visitors a year. The park's primary mission is to protect, preserve, and interpret the 12,000-year legacy of the Ocmulgee Old Fields and the Southeast's indigenous people. Though American Indians were forcibly removed from Georgia and are now, for the most part, "out of sight; out of mind," their ancient ties and sacred places are symbolized and memorialized by Ocmulgee National Monument. How wonderful it would be if Macon/Bibb County's leadership could recognize, embrace and enhance the unique and fascinating shared heritage of the Ocmulgee Old Fields!!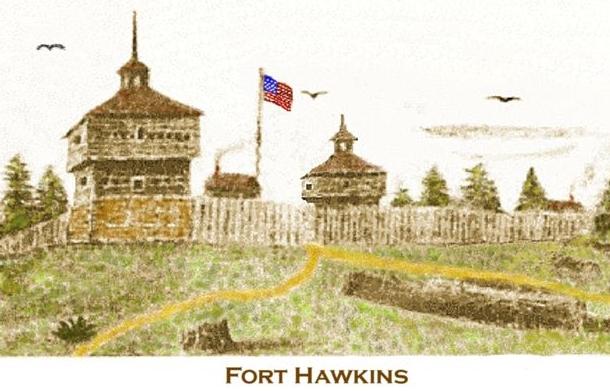 What are we all about
Our group, the Friends of Ocmulgee Old Fields, was formed to help the park, the unprotected portions of the Old Fields, and surrounding resources maintain the high quality of their cultural and natural integrity. We do this by developing and accomplishing projects for the park. Some of the projects our members have undertaken include:
· Providing additional staffing for the park visitor center/museum.
· Building a new maintenance equipment storage shed.
· Maintaining park trails.
· Participating in fundraising efforts.
· Providing assistance during special events.
· Advocating protection of the area's natural and cultural resources.
Enhéssë, the name of our newsletter, is defined in the Muscogee (Creek) language dictionary as "Friend". To us, Enhéssë means a friend of the land, a friend of the park, a friend to each other, and a friend to the spirit of the people who inhabited this land before us. We invite you join us.

WE NEED YOUR HELP!!
For several years, we and other concerned organizations and individuals, including the Creek and Seminole people, have engaged in an effort to prevent a four-lane, divided highway from desecrating the Ocmulgee Old Fields Traditional Cultural Property (District), the first listing of its kind on the National Register of Historic Places east of the Mississippi River. The TCP encompasses:
Ocmulgee National Monument
Bond Swamp National Wildlife Refuge
Browns Mount
Scott-McCall Archaeological Preserve
Most of Macon's Central City Park
Much of the Ocmulgee River Heritage Greenway
The proposed Eisenhower Parkway Extension would bisect wetlands between Ocmulgee National Monument's Macon Plateau Unit and its Lamar Mounds and Village Unit; the highway's interchange with I-16 would be partially constructed on the Scott-McCall Archaeological Preserve; the road would sever the wildlife corridor linking the National Monument to Bond Swamp National Wildlife just downstream. This "Longest Bridge in Georgia" is the Georgia Department of Transportation's preferred cross-Macon connector for the Fall Line Freeway. Construction costs for this four-mile-long strip of concrete are currently estimated at $130-million. Local proponents of this route refuse to consider prudent and feasible alternatives that would save massive expeditures of precious public funds and preserve Macon's nationally significant cultural and natural heritage. For more information:
Threats from unnecessary Road Building

National Parks Conservation Association
---
You can reach me, Lindsay Holliday, by e-mail at: Teeth@MindSpring.com