Please visit the new site (click here)
Fort Hawkins Historic Site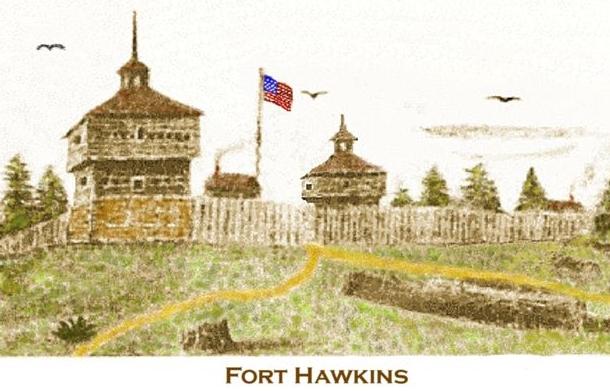 America's Forgotten Fort & Frontier
click here for a colorful and informative Membership Brochure
Overlooking the Ocmulgee Old Fields and the Ocmulgee National Monument in Macon, GA.
Built in 1806, this was the supply base for the army in the war of 1812. It served as a trading center prior to the founding of Macon in 1823. A reconstructed blockhouse offers a museum that can be toured. Contact the Macon-Bibb County CVB for more information.

Emery Hwy at Maynard St.
Macon, GA
Toll-Free: (800) 768-3401
Phone: (478) 743-3401
---
Read full text of our new Master Plan (
here
)
---


CALENDAR:







Society of GA Archaeology Artifact ID Day, May 17, 2008



Summer Friends Cleanup & Picnic, May 17, 2008

3rd Annual Fort Hawkins Benefit Open Car Show, June 7, 08 (in historic Downtown Macon)

6th Annual July 4th Celebration, July 4, 2008

7th Annual Halstead Family Reunion, August 9, 2008

Ocmulgee Celebration Open House, September 20-21, 2008

First Fort Frontier Rendezvous, September 20-21, 2008

Fall Friends Cleanup & Picnic, Saturday, September 20, 2008

Outer Palisade Archaeological Dig & Reconstruction, October 08

Fort Hawkins School Reunion, October 11, 2008

Winter Friends Cleanup & Picnic, Saturday, November 8, 2008

3rd Annual Veterans Day Salute, November 11, 2008

3rd Annual Frontier Fort Christmas, December 5, 2008










Contacts:
"Marty and Lisa Willett" <liwi@cox.net>

2008 FORT HAWKINS COMMISSION MEMBERS

Mr. Marty Willett, Chairman

Rev. Victor Hunt, Vice Chairman
Ms. Mary Lee Rogers, Secretary
Mrs. Lynn Halstead Stokes, Treasurer
Mrs. Echo Halstead Burrell
Mr. Mike Cranford
Mr. Ed DeFore
Rev. Richard Gammage
Mr. John Goolsby
Mr. Sam Hart, Sr.
Dr. Eric Klingelhofer

EX OFFICIO MEMBERS
Mrs. Sandra Adams, Nathaniel Macon Chapter N.S.D.A.R.
Mr. Grady Burrell, Jr., Fort Benefit Car Show Coordinator
Mr. Mac Cone, Fort Hawkins School
Dr. Lindsay Holliday, President Ocmulgee Nat. Mon. Assoc.
Ms. Marion Joseph, Fort Hawkins School
Mr. Michael Lynch, President Mid. GA Vietnam Veterans
Mr. David Mincey, President Ocmulgee Archeological Soc.
Mrs. Kitty Oliver, Middle Georgia Historical Society
Mrs. Judy Smith, N.S.D.A.R., U.S.D.1812, U.D.C.
Mrs. Dianne Dent Wilcox, Fort Hawkins Historian

---
Please visit the new site (click here)

This webpage is under construction by Lindsay Holliday